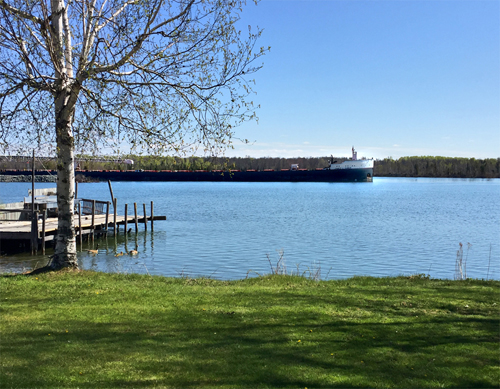 St. Mary's River
- "Rivière Sainte-Marie"
Q: "What is there to do along the St. Mary's River?"
A: "Guests can enjoy great views of the freighters, take a boat ride, fish, tour the Soo Locks, and more!"

Welcome to Rock Cut Resort located in Barbeau, MI along the St. Mary's River. This incredible Upper Peninsula waterway is 75 miles long, and serves as a natural international border, separating Michigan from Ontario, Canada. The American tributaries to this river are the Gogomain River, the Munuscong River, the Little Munuscong River, the Charlotte River, and the Waiska River.

Native Americans fished the St. Mary's river, traded and maintained the portage throughout the rapids long before European settlers arrived. The first european travelers arrived at the St. Mary's in the year of 1621. In 1855, the St. Mary's Falls Ship Canal Company completed the first modern lock, known as the "American Lock".

The American Soo Locks are the major transportation route around the St. Marys Rapids, but the Canadian Sault Ste. Marie Canal is still used by recreational and tour boats.