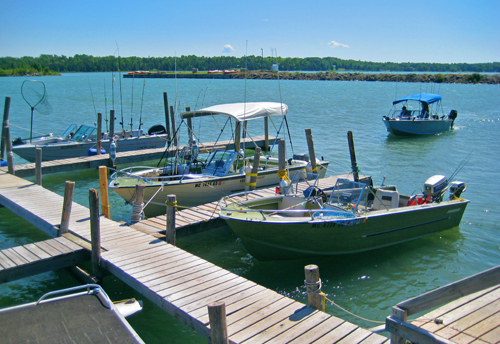 Barbeau, MI
Boat Rentals and Fishing on the St. Mary's River near Sault Ste. Marie
Q: "What kind of fish are in the St. Mary's River?"
A: "Walleye, Northern Pike, Muskellunge, Salmon, Steelhead, whitefish & small-mouth bass"

Welcome to Rock Cut Resort's Boat Rentals and Fishing page. We are located in Barbeau, MI along the beautiful St. Mary's River. We offer a wide variety of Upper Peninsula Fishing Boat Rentals for the use of our guests. Rock Cut Resort boat rentals includes: pontoon boats, 16 ft fishing boats, 2 seat canoe, and kayaks. We have also installed a new dock system for our guests. With the many upgrades made to the entire property, you are sure to have a successful UP vacation here at Rock Cut Resort.

Fishing the St. Mary's River
Fishing on the St. Mary's River is a unique experience that is one of Michigan's top fishing destinations. This 75-mile waterway is connected to Lake Superior and the North Channel of Lake Huron. Many species can be caught throughout this river, but some of the top catches are Walleye, Northern Pike, Muskellunge, Salmon, and Steelhead.

Walleye are abundant throughout the river and hot spots include Munuscong Bay, the deep waters around Neebish and Sugar Islands. Trolling and deep water jigging often brings great success.

Northern Pike and Muskellunge are abundant due to the habitat and prey fish species. Best time to fishing these species are the middle of June through July.

Salmon and Steelhead make their spawning trip up the St. Mary's anytime between May and Oct. The tactic of choice is fly fishing.

Other Species include: Whitefish & small-mouth bass

Choose from our wide variety of St Marys Fishing Boat Rentals that best fit needs for your outdoor adventure.


$375.00/week or $75.00 per day + sales tax
All boats come with 1 tank of fuel, life jackets, throw ring and anchor. Additional fuel available for purchase.
---
---
---

We offer some of the best fishing in the UP with scenic views in every direction. Here you will experience a very family friendly resort that delivers the greatest opportunities to enjoy life along the river. We have boat rentals, pontoon rentals, canoe & kayak rentals.

You'll need a valid Michigan fishing license to fish the St. Mary's River. You can purchase a license online through the Michigan Department of Natural Resources (link below) or at most bait shops and sporting goods stores across the state.

♦ Michigan DNR E-License

♦ Learn more about fishing the St. Mary's River.

Please don't hesitate to call us with any questions and / or a reservation request. We look forward to meeting you!